KEISUU DRONE Kit
Home > Products >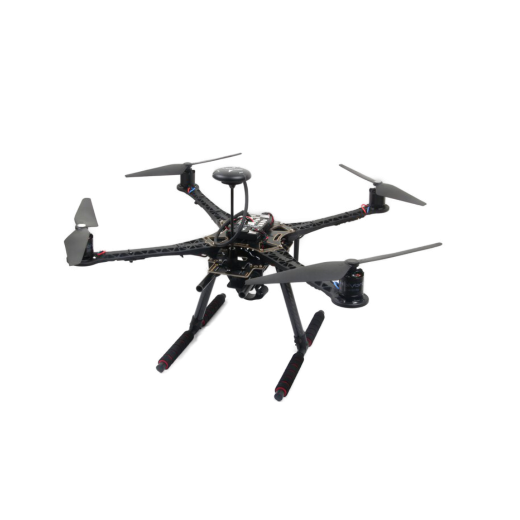 Drone frame + motor + ECS
Flight controller + power supply module + GPS
Telemetry transmitter
Telemetry Ground Control side USB dongle
Telemetry Flight control side for 5V microcomputer
8ch RC receiver (S.BUS compatible, Futaba receiver compatible)
OpenTX compatible RC transmitter
Storage for saving OpenTX configuration files
Battery for proportional control system 2600mAh
LiPo battery for drone 3000mAh 11.1V
LiPo Battery Charger for Drones
Instructions
It can be operated with proportional control system like the other commercial drones. Since interrupt operation during autonomous flight is also possible, safety can be ensured. Just by turning on / off the landing switch of the radio, you can safely and automatically depart and land with the flight controller.
2. Utilize open source projects (Raspberry Pi, ROS, Pixhawk, Ardupilot)
Use Raspberry Pi and ROS for automatic flight control, and Pixhawk and Ardu Pilot for basic drone flight control. These are used worldwide in the field of drone development, so if you master them, you can play an active role as a drone engineer anywhere in the world.
3. Supports QGroundControl
Using the open source drone operation app QGroundControl managed by the Linux Foundation, you can set autonomous flight parameters, monitoring during flight, and automatically fly to registered points. QGroundControl is open source software that is widely used in drone development sites around the world.
MAVLink is the de facto standard communication protocol widely used in drone control. The official ROS package is also available, which supports sensor data reception such as acceleration / gyro / GPS and movement route command transmission for autonomous flight. Therefore, even beginners who are trying autonomous flight programs for the first time can learn effectively.
5. Indoor autonomous flight with camera (optional)
If you add optional parts, you can fly indoors autonomously just by processing the image of the camera. It can be used for autonomous flight research for facilities that are out of reach of GPS.
| | |
| --- | --- |
| Size | Length 383 mm, width 385 mm, height 240 mm |
| Diagonal wheelbase | 480mm |
| Weight | 782g (excluding battery) |
| Maximum flight time | About 20 minutes |
| Height limit usage | Tested up to 150m of aviation regulation range |
| Maximum payload | 1.8kg (including battery) |
| Operating frequency | 2.400〜2.483 GHz |
| GNSS | Ublox Neo-M8N IST8310 compass |